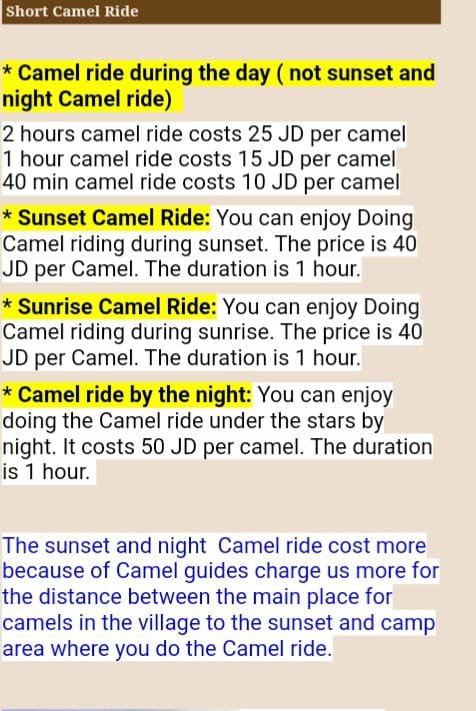 The camel ride starts from the village of Wadi Rum and then we go to Lawrence Spring and the Khazali Valley. The valley is an extraordinary geological marvel with ancient Nabatean inscriptions. After that we will serve you lunch in the Day Time trips.
Important: the Camel Rides do not include overnight stay. The cost for staying overnight in our camp is below. Your total price will be:
Camel Tour + Overnight Stay 
Overnight Stay
After your camel tour (or before it, if you choose the nighttime package,) you will come to our authentic Bedouin camp. There you can enjoy delicious Bedouin dinner and tea as well as Bedouin music and songs.
The next day after breakfast, we will drive you back to Wadi Rum village by jeep.
Prices
---
| Option | Price for Overnight Stay |
| --- | --- |
| 1 person | 20 dinars / person |
| 2-4 people | 15 dinars / person |
| 5-8 people | 10 dinars / person |
| 9 people or more | 10 dinars / person |
| Children under 14 years old | 50% |
| Children under 4 years old | Free of charge |