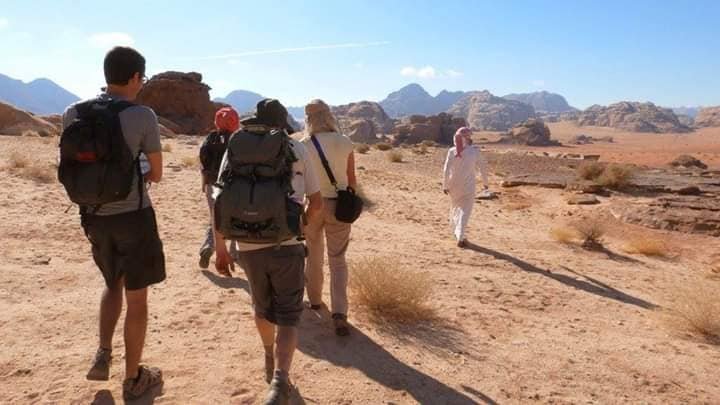 A two-days tour of Jabal Al-Hash with Guide
Day 1
From the village of Wadi Rum, you and your guide will visit the Nabatean temple, which is located near the village of Rum with rock art, Thamudi and ancient Kufi texts. The temple was erected around the 1st century BC. Next, we'll take you to Lawrence Spring where you can climb up and take pictures of the amazing view. Then we go to the dunes, which are a large area of ​​sand dunes piled up against the mountains. It's fun to climb to the top, and you can sand board down.
After that, we will transfer you to Brrah Canyon where we will drop you off with a map and you will walk for two and a half hours in this beautiful place. Don't worry, everything is easy to find. At the end of the journey, we will give you exceptional Bedouin tea. Then we'll take your group to the Um Frouth rock bridge. You will have a chance to climb this bridge. Next is the little arch bridge which can be climbed easily. After that you will go to Khazali Valley where you can walk inside the inscriptions..
If you make it to the campground, walk to this site or take a leisurely stroll in the area. After that you will go to Khazali Valley where you can walk inside the inscriptions.
Then you will watch the sunset in a wonderful setting over the desert before heading to camp for a traditional Bedouin dinner and sleep.
The second day
After breakfast, we jeep drive you to Jabal Al-Hash located in Al-Fura District, the Jordanian-Saudi border.
The hike is not overly strenuous and. Can be done by an inexperienced hiker. You will be led by your English speaking guide the entire time.
You and your guide will start hiking from the eastern side of the mountain in Wadi Um Sneineh and go through the valley to the top. Then we descend from the northwest side of the mountainous Angara.
In total, the hike is about 5 hours. This is perhaps the most beautiful mountain in Wadi Rum that you can hike, because when you reach the highest point (1700 meters above sea level) you will see all the colors that envelop Wadi Rum. After descending, your guide will start cooking and the  1 hour rest phase begins. After that you will walk about 3 hours around the mountain. Finally, we'll go back to camp and wait for sunset.
The next day after breakfast, we will take you back to Rum Village.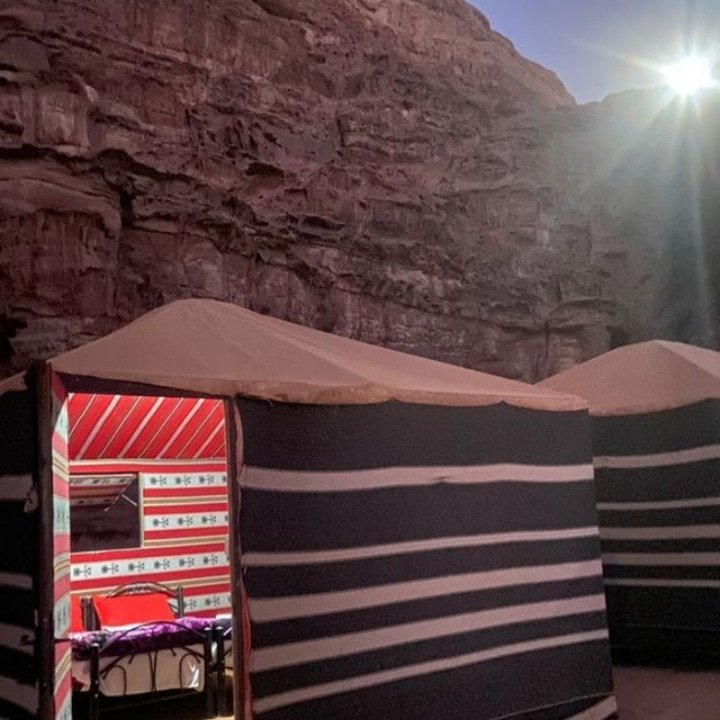 Prices
---
| Option | Price |
| --- | --- |
| 1 person | 180 dinars / person |
| 2-4 people | 100 dinars / person |
| 5-8 people | 70 dinars / person |
| 9 people or more | 50 dinars / person |
This tour starts at 9 AM and 10 AM. If you arrive late, you can take the tour the next morning after spending the night at the camp.