Full-Day Jeep Tour and Sleep Under the Stars

From the village of Wadi Rum, we will pick you up in a Jeep where you can sit outside and watch a beautiful desert. Next, you'll head to the red sand dunes, where you can climb up and enjoy the view from the top.
After that, check out the ancient inscriptions left by trading caravans many centuries ago,  you can stroll in this beautiful and secluded place for two hours. In the afternoon, after we provide lunch you will go to the Burdah Rock Bridge.
After that, you will be taken to the Um Frouth rock bridge, which you can climb up to get a great view from the top. After this, you will go to Little Bridge, which you will also have the opportunity to climb. After the bridges, you will go to Khazali Canyon, a great place for hiking with Nabatean inscriptions from 100BC.
Finally, we will take you to Umm Sabah area, where you will witness a beautiful sunset. Your guide will cook a Bedouin dinner and tea, please experience the serenity and seclusion of the desert before sleeping under the stars. (note only done in warmer months, otherwise you will sleep in our tents.)
The next morning after breakfast, we will take you back to Wadi Rum Village or the Wadi Rum Visitor Center.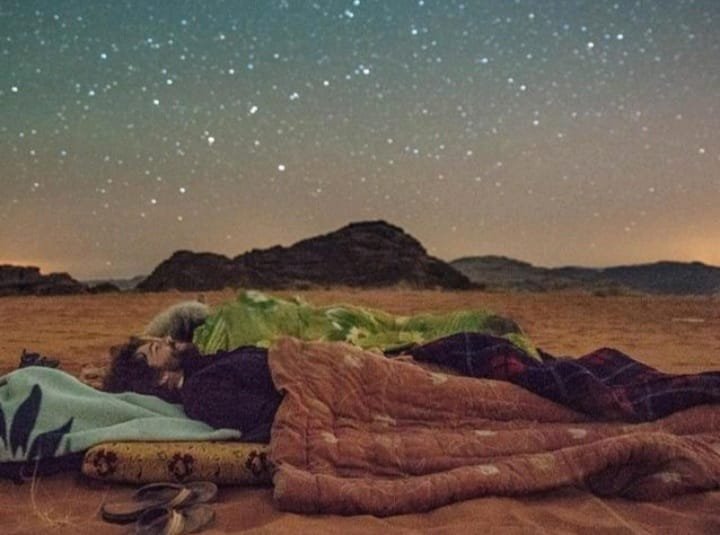 Prices
---
| Option | Price |
| --- | --- |
| 1 person | 100 dinars / person |
| 2-4 people | 70 dinars / person |
| 5-8 people | 55 dinars / person |
| 8 people or more | Please contact us for a special price |
This tour starts at 9 AM and 10 AM. If you arrive late, you can take the tour the next morning after spending the night at the camp.