Welcome to Wadi Rum adventure!
See what a day in the life at one of the most spectacular places on earth looks like 
Here are some of the most popular tours
For all options, including half day and multi-night adventures, click on the "Tours & General Info" tab
Weather at Wadi Rum
The weather at Wadi Rum, while predictable, varies widely based on the season. Summers are quite hot, with average daytime temperatures between 38* and 45* (100* – 113* F). However, at night the temperature drops significantly (15* – 20*; 60* – 68* F). Light, loose, comfortable clothing is best, with perhaps a light jacket for the night time.
During the winter, daytime temperatures are usually between 15* to 20*, with temperatures at night hovering near freezing. If you are traveling to Wadi Rum in the winter, be sure to bring a warm jacket for the nights.
Please remember that we are in a conservative Islamic country. While we have no problem with what you choose to wear while you are in Wadi Rum, you should be mindful of local sensitivities during the rest of your trip to Jordan.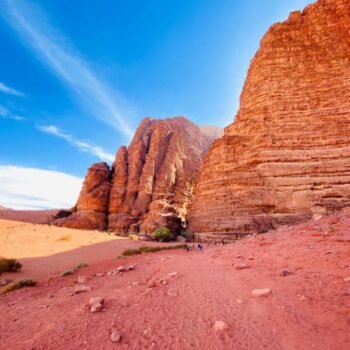 Please read our General Info section to learn all the information you will need before visiting Jordan and our camp! Feel free to reach out with WhatsApp or email at any time, and we will respond within 24 hours.