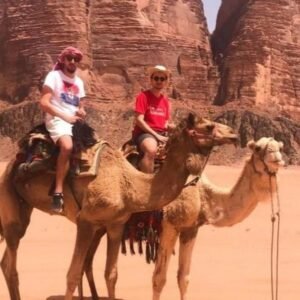 3 days camel, hiking and jeep tour
First day
The tour will start from the village, where you will drive by jeep to the Seven Pillars, a famous landmark named after the book of T. E. Lawrence (Lawrence of Arabia). Then you will travel to Wadi Um Ashereen and continue to Wadi Bora where you will walk about two hours. Then this tour will go past the greatest sites in Wadi Rum, famous canyons, dunes, and rock bridges. You will then  enjoy a wonderful sunset in the serenity of the desert from a special viewing site before returning for Bedouin dinner in our campsite.
The second day
After breakfast take a stroll to Khazali Canyon, where there is an opportunity to walk inside and see the ancient Nabatean inscriptions. After that, we go to Little Bridge and then Lawrence House; where Lawrence of Arabia stayed. Then hiking to Anficia and sand dunes and back to the sunset + camp.
The third day
After breakfast, you will go on a camel tour, riding these magnificent animals across the desert, before having a picnic in the sand and returning to camp to explore and  hike before dinner.
The next morning after breakfast, we will take you back to Rum Village.
Prices
---
| Option | Price |
| --- | --- |
| 1 person | 150 dinars / person |
| 2-4 people | 110 dinars / person |
| 5-8 people | 100 dinars / person |
This tour starts at 9 AM and 10 AM. If you arrive late, you can take the tour the next morning after spending the night at the camp.